10 Paris Favorites
Paris Favorites…? Nee nee, we gaan hier niet over op het Engels, heus niet. Er zijn al genoeg blogs in het tenenkrommendsteenkolen-Engels, nietwaar? Maar zo af en toe maken we een uitstapje naar onze vriendinnen van afterDRK die hun verhaal wel in het overzees houden. Dus dan spelen we mee, what else. Onderstaand rijtje was al op afterDRK te lezen en nu dus ook hier, in het Engels – want om de boel weer  te gaan vertalen is ook zo wat. En ach, een klein moppie kunnen we best meelullen. Welcome.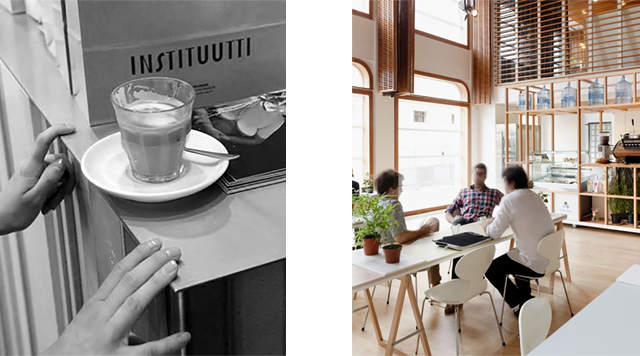 Since Paris is always a good idea, I thought I'd share 10 of my personal favorites in Paris. From morning coffee to a nightcap…
Coffee shop Coutume Instituutti. Although a horrible cup of coffee, rude staff and a sticky, saltless croissant at a nothing-fancy-bistro should be a part of your Paris trip, it comes in handy that there are more and more coffee bars that make an art out of brewing coffee opening. Holy Belly and – new in the good coffee spots list – so is Coutume Instituutti. After Coutume Café and the Coutume Lab, Coutume Instituutti just recently opened in the Finnish Institute. You already guessed it: the place is all about Scandinavia and good coffee, beautiful lighting and your seat will always be right next to that bearded freelance guy with laptop at the long wooden table. The two of you? There are some small tables at the window as well. Coutume Instituutti, 60 rue des Écoles, Paris.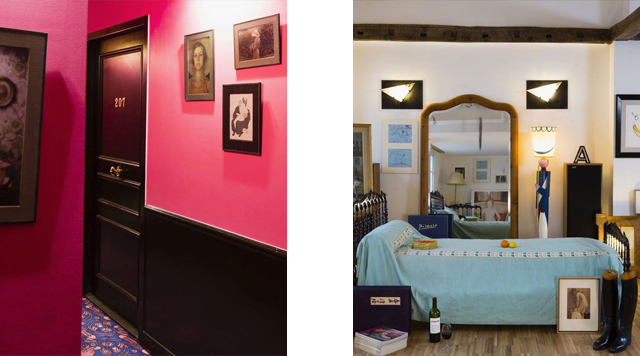 Hotel Grand Amour. Sorry for the enthusiasm but… WHOOP WHOOP! The owners of long time favorite Hotel Amour (favorite to sleep because of the creative and cheap rooms, but for lunch at the perfect courtyard as well) opened a second hotel: Grand Amour. You will find the new hotel at rue de la Fidélité; an area that used to be a bit dodgy but started to become much cooler recently. The hotel does its name justice and is twice as big as Hotel Amour but the concept is the same: creative rooms designed by artists – all friends of the owner – Olivier Zahm amongst others, for adorable prices, a spa in the basement (oke, that's new) and a courtyard and the best party's of 2016, already. Grand Amour, 18 Rue de la Fidélité, Paris.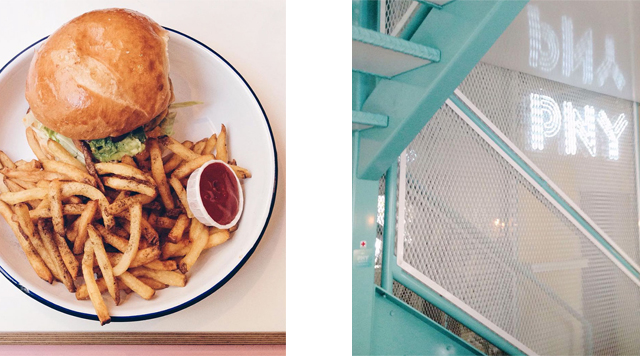 Burger bar PNY. The first PNY (which stands for Paris New York) at the 10th arrondissement was a huge succes from the very first day. Because of the extremely great burgers, yes, and because of the hip and cool crowd; friends of the owners (also a group of friends, what else) and wannabe's. PNY 2 opened quickly after that but PNY 3 is the place you want to go: a pink, Miami style bar with the best, adorable burgers in the middle of Le Marais, for your well deserved shopping break. PNY-hamburgers, 1 rue Perrée, Paris.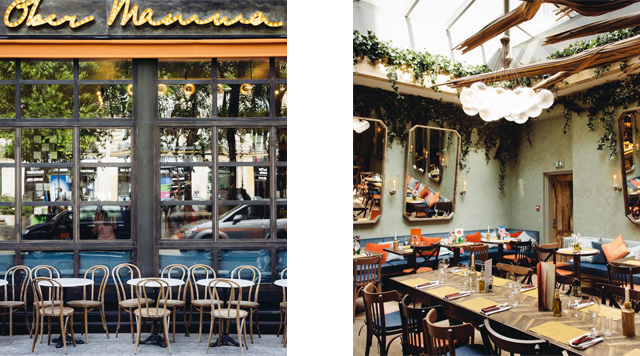 Restaurant Ober Mamma. One of the newest must go restaurants is this Italian place called Ober Mamma (very close to the Clown Bar, another one worth checking out). It's busy, they serve great cocktails, there's a small terrace and well; there's pizza and pasta. Ober Mamma, 107 Boulevard Richard Lenoir, Paris.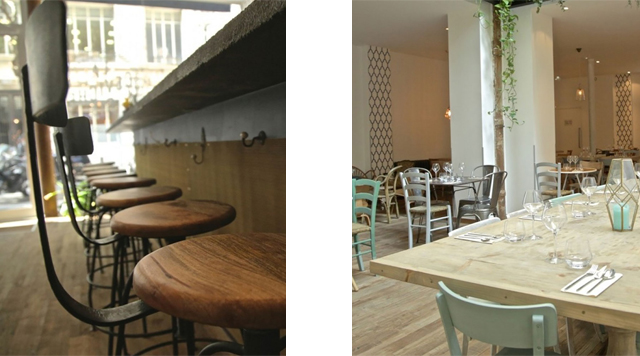 Restaurant La Cevicheria. For a girly cute bright and shiny lunch: La Cevicheria. In the middle of Le Marais, if you don't want to wait for a lunch at Merci (all three of them are great recommendations but the Library is the best, but that on the side). The place is light and zen, simple meets girly cool and with a glass roof it feels like summer all year long. The menu is based on Peru and all dishes are nice and healthy. La Cevicheria, 14 rue Bachaumont, Paris.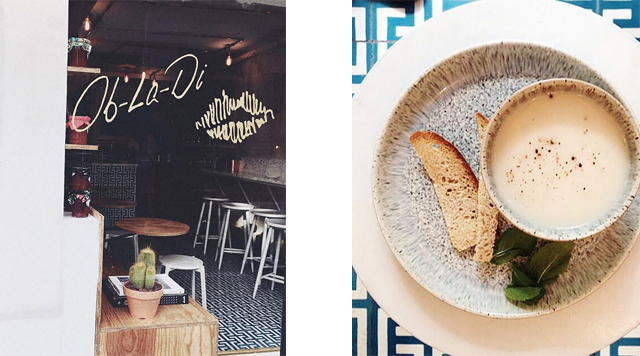 Ob La Di Cafe. Who needs more explanation after reading that name? If you do: Ob La Di for the best (or at least one of the best) coffee in town, served from this uber-cute blue and white bar your Instagram feed will love. Don't forget to try some of their purple haze bread if you go. Ob La Di Cafe, 54 rue de Saintogne, Paris.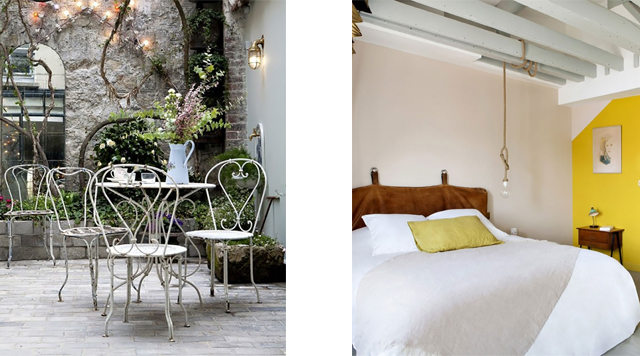 Hotel Henriette. Another (new) sleep spot, a little bit further from the city center at the left bank. No, you won't be able to walk to the best shops or the best restaurants and bars, but the rooms at Hotel Henriette come at fair prices (€90,- a night if you are lucky and not that much more if you are not). And it comes with perfect service and a stunning room, a beautiful lobby, restaurant and patio. Hotel Henriette, 9 rue des Gobelins, Paris.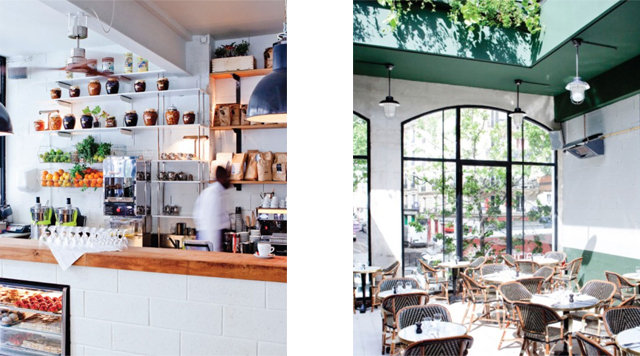 Brasserie Barbès. If you drive to Paris by car (something the Duchies can easily do), you will probably pass this big brasserie near the Sacre Coeur, but I bet you won't notice it. A shame because Brasserie Barbes is one of the coolest, all day long and no bullshit basseries of the city. They don't take reservations, but you will always find a place to sit. Walk up a floor to get to the 'rooftop' (which is more of a balcony); in summer the roof will be open, in winter there's glass roof. Walk even further up to get to the dance floor. Brasserie Barbès, 2 Boulevard Barbès, Paris.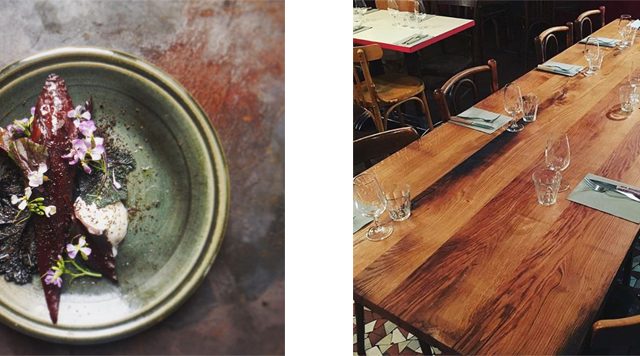 Restaurant Au Passage. When in Paris, you are not allowed to skip an evening at Au Passage. Well, sure you are, but you will miss out on one of the best (foodie) evenings ever. The restaurant is not too fancy and the best food is served by the nicest waiters of Paris. And not it is not that expensive either. Au Passage is from the same owners as the very populair restaurant Bones, where you have to wait at least 2 months for a reservation (last time we checked). So I would suggest to skip Bones and go to sister restaurant Au Passage. No table, no problem. The best seats are actually at the bar where the bartender will pass through small tastings you don't want to miss. Au Passage, 1 bis Passage Saint-Sébastien, Paris.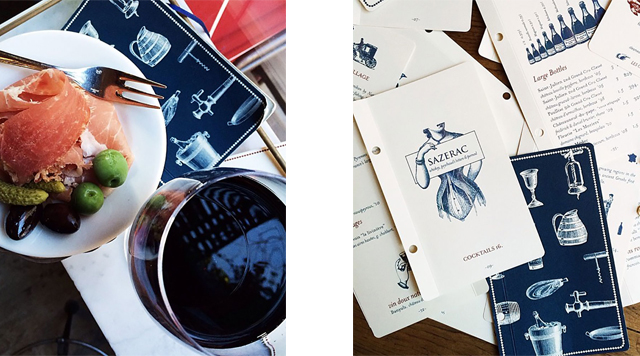 Buvette. Paris anno 2016 is all about Pigalle, the area. And once there you want to go to this super small restaurant called Buvette, especially if you love typical French food to share. The dark and tiny restaurant works on a first come first serve base (they take some reservations as well, just not for all their tables). No tables left? Luz Verde – for Mexican food and cocktails – is right next door and a couple of doors further you will find Grand Pigalle Hotelfor a bed, a small bite and cocktails. Restaurant Hero is close as well, for Korean food and cocktails and Le Depaneur Pigalle, for burgers and… You get the point. Buvette, 28 rue Henry Monnier, Paris.
Oke, one more bonus tip: Le Mary Celeste, an all time favorite for champagne and oysters (the first images are Le Mar Celeste).
Want/Need more Paris tips? Check Le Barts Brochure ;-) or follow Maartje (aka Bart) on Instagram.